P827
Posted by

Date

April 13, 2019
Disasters provide unique opportunities for studying psychological distress. Explanatory models of disaster vulnerability commonly focus the characteristics of the stressor, the characteristics of the victims, the cognitive processing of the traumatic event, and the qualities of the environment. Researchers often rely on the Conservation of Resources (COR) Stress Approach and the Social Support Deterioration (SSD) Model. The COR and SSD models both attempt to describe the interrelation between these elements to understanding psychological stress resulting from disaster vulnerability. The COR Stress Approach focuses on the impact of cataclysmic events on individual psychological exposures, while the SSD Model focuses on the availability of social support and the correlation between support networks and coping with stressful life events.
With an estimated $200 billion in damages, Hurricane Katrina is considered to be the costliest disaster in United States history. A 2009 study focused on Hurricane Katrina survivors to assess the role of socio-demographic variables, structural variables, and situational factors in stress. The researchers were particularly interested in the differences between races and genders, focusing on comparing black and white, male and female survivors. Using data collected within a year of Hurricane Katrina, the researchers found significant racial differences in psychological impact. Symptoms of anxiety, depression, sleeplessness, and worry were more frequently expressed by black respondents than by white respondents. The OLS regression model reveals the follows factors are predictors of psychological distress among survivors: older age, residency in Orleans Parish, female gender, unemployment, having dependent children, the extent of property damage, and consistently sustained financial hardship.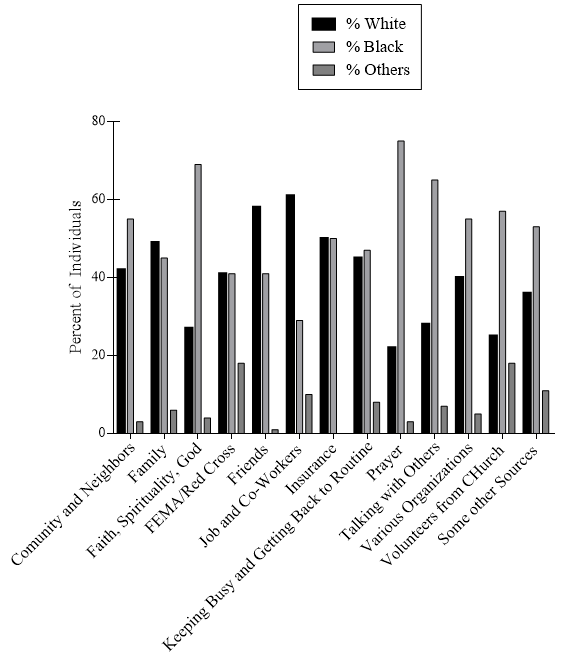 Figure 1.
Sources of emotional support among survivors of Hurricane Katrina.
.
---
Find an error? Take a screenshot, email it to us at error@mytestingsolution.com, and we'll send you $3!