P828
Posted by

Date

April 13, 2019
Sociologists have long used the term recidivism to refer to the percent of formerly incarcerated individuals who again are incarcerated after their initial sentence. It has been found that the recidivism rate in the United States is extremely high, with several sociology groups working to develop theories which better explain why this may be occurring. In some areas of the United States, as many as 3 out of 4 individuals in prison today have previously served time. Recidivism rates by crime type is depicted in Figure 1.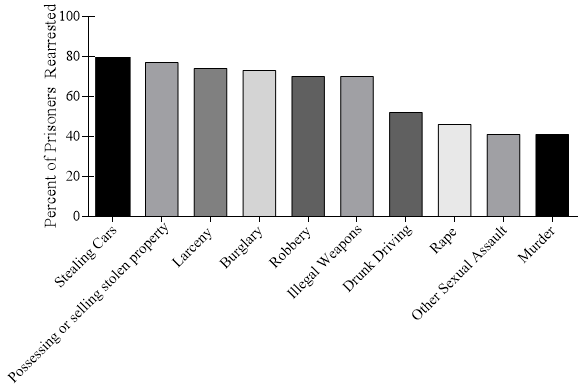 Figure 1.
Rates of recidivism in the United States by category of crime (n = 300,000).
Various additional analyses were performed, examining trends in educational attainment, racial/ethnic trends, and other demographic features of the individuals within the prison system. Table 1 illustrates a handful of these trends.
Table 1. Demographics of incarcerated prisoners in the United States.
Characteristics
Percentage of Prisoners
Percentage of US population
Race-Ethnicity
African American
46.5
12.2
White
33.3
68.2
Latino
17.0
13.5
Other
3.2
6.1
Education
Less than high school
43.1
15.8
High school graduate
43.6
33.1
Some college
10.7
25.4
College graduate (BA or higher)
2.7
25.6
.
---
Find an error? Take a screenshot, email it to us at error@mytestingsolution.com, and we'll send you $3!