P826
Posted by

Date

April 13, 2019
Throughout history, military soldiers have been observed to follow orders to commit acts of violence against civilians; many of these acts are, later on, deemed immoral or war crimes. Sociologists seek to understand the psychological and sociological influences that are involved in such actions which appear to be objectively negatively principled.
One classic study on social influence and obedience was inspired by some of the war crimes seen during World War II by the German military. A prominent psychologist designed an experiment in which subjects were given express orders to administer electric shocks to a victim in increasing increments of amplitude. Subjects were recruited through newspaper advertisements for a study of memory and learning. These subjects were provided with a shock generator with graded switches ranging from slight to severe; shocks were provided if the victim answered questions incorrectly. In reality, there were no actual 'victims,' rather voice recordings of individuals stating various responses and making noises of pain. Of the 40 subjects, 26 obeyed the shock commands and administered shocks up to the highest grade. Fourteen refused orders prior to the highest shock setting. The researcher observed extreme levels of discomfort in many participants, even those who obeyed commands to completion.
In the experiment, an impassive, stern male gave the shock orders. The victim, an accomplice pretending to receive shocks, was described as a likable and mild mannered. The subject read a series of word-pairs to the victim and was asked a recall question about the words. The subject was told that he would then administer shocks to the victim to study the effects of punishment on memory and learning.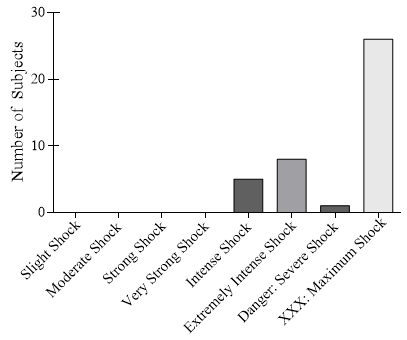 Figure 1.
Distribution of the maximum shock that subjects were willing to administer.
.
---
Find an error? Take a screenshot, email it to us at error@mytestingsolution.com, and we'll send you $3!