P817
Posted by

Date

April 12, 2019
Health research has long recognized that health outcomes vary significantly across social status groups, with low-income individuals and members of disadvantaged minorities having especially poor outcomes. Significant research has focused on how membership in different groups (e.g., race, gender, class) may influence health behaviors via the characteristic beliefs and individual resources of members of these groups. Ecological systems theorists have sought to expand this approach by examining the ways in which individuals' group membership is associated with their location within multiple systems and contexts that influence and enable particular behaviors. At the most basic level, individuals are located in micro-systems (e.g., family, neighborhood, workplace) that influence one's health behaviors, and these systems are dynamically related.
Researchers seeking to understand how individuals' social status is related to their health behaviors and life contexts analyzed cross-sectional data gathered in 1995 for the National Survey of Midlife Development from a nationally representative sample of 3,032 individuals in the US, ages 25 to 74. The behavior of interest was vigorous physical activity, represented by a variable that ranged from 6 (individuals reporting vigorous exercise several times a week) to 1 (individuals reporting never engaging in vigorous activity).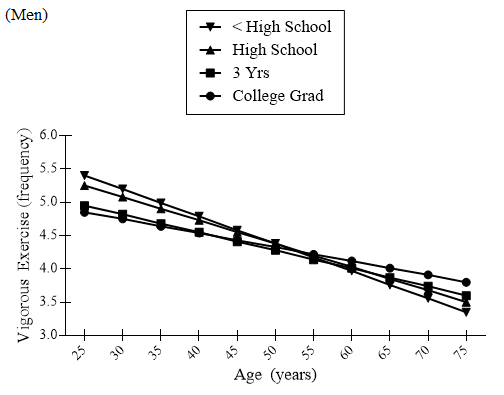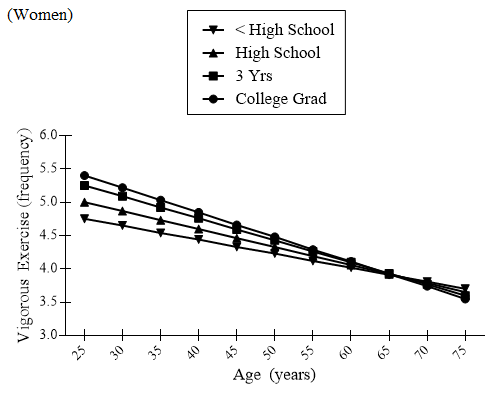 Figure 1.
Amount of vigorous exercise with respect to gender and age.
.
---
Find an error? Take a screenshot, email it to us at error@mytestingsolution.com, and we'll send you $3!