P800
Posted by

Date

April 5, 2019
Attitudes are defined as favorable or unfavorable views that ultimately influence a person's behavior. Attitudes are formed from personal experience and people often adopt the attitudes of others for the purpose of social inclusion. Persuasion is a process during which one individual makes an attempt to change the attitude of another individual for either primary or secondary gain.
In a recent study, scientists examined factors influencing persuasion. Two different television advertisements were produced, each promoting identical cornflake cereal products. Advertisement A was purposely designed to be highly factual and banal. The advertisement made arguments regarding health benefits as well as the affordability of the cereal. Advertisement B was composed of several music tracks as well as displaying subjects of objective attractiveness; this ad provided few details about the cereal itself and its qualities.
Both advertisements were displayed in succession to a group of 100 undergraduate students at a local university. Afterwards, these subjects were asked which advertisement was more successful in persuading them to purchase and eat the cereal.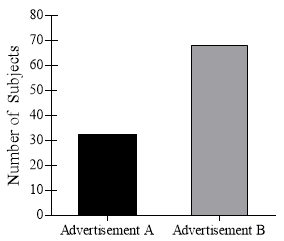 Figure 1.
Number of subjects who preferred each advertisement.
.
---
Find an error? Take a screenshot, email it to us at error@mytestingsolution.com, and we'll send you $3!