P601
Posted by

Date

March 24, 2019
Tartaric acid is a diprotic, organic acid found naturally in a variety of foods. Its IUPAC name is 2,3-dihydroxybutanedioic acid and it has two carboxyl groups along with two chiral carbons, each with an alcohol group attached as well. The naturally-produced stereoisomer of tartaric acid is L-tartaric acid, though its enantiomer D-tartaric acid can be artificially produced, as can the achiral form, mesotartaric acid. Racemic acid is an optically-inactive mixture of the two optically-active isomers of tartaric acid.
At high concentrations, tartaric acid is toxic to muscle cells by inhibiting the production of malic acid, lowering malate concentrations. Nonetheless, it can safely be included as a food additive and is found as an emulsifier and antioxidant in many sour-tasting processed foods.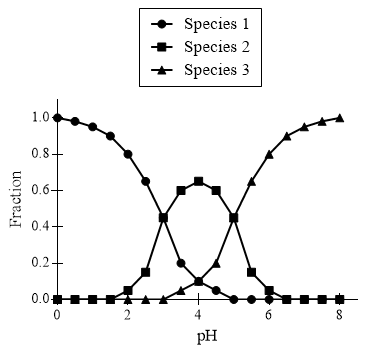 Figure 1.
Abundance of tartaric acid and conjugate base ions at different pH values.
.
---
Find an error? Take a screenshot, email it to us at error@mytestingsolution.com, and we'll send you $3!