P600
Posted by

Date

March 24, 2019
In mammals there are five known classes of immunoglobulins: IgA, IgD, IgE, IgG, and IgM. Each type of antibody has a different role in the immune system, and is identified by a constant region of the polypeptide that is attached to the variable region. The variable region of the polypeptide has many possibilities for three-dimensional arrangement, and the particular variation of the variable region determines the antigen to which the antibody will bind. IgA is found in mucosal epithelia and helps prevent infection by pathogens. IgG is the main component of immune response involving antibodies, and is the only immunoglobulin able to cross the placenta. IgE commonly binds to allergens and parasitic worms.
The binding of an antigen involves intermolecular affinities. The binding region of the antibody is called the paratope. The particular part of the antigen which binds to the paratope is called the epitope. Two types of epitopes include conformational epitopes and linear epitopes. Linear epitopes are recognized by primary sequence of amino acids while conformational epitopes rely on the tertiary structure of the antibody variable region.
The constant region of the antibody is specific to the species producing the antibody. It is therefore likely that an animal injected with antibodies of another species will make antibodies to the injected antibodies, with part of the constant region of the injected antibodies as the epitope of the host's anti-antibodies.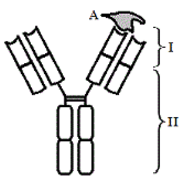 Figure 1.
Immunoglobulin structure bound to antigen.
.
---
Find an error? Take a screenshot, email it to us at error@mytestingsolution.com, and we'll send you $3!