P402
Posted by

Date

March 19, 2019
A mass spectrometer is a device used to determine the mass of the atoms or molecules within a sample. It functions by sending a charged particle at a set speed traveling into a magnetic field. The mass spectrometer is configured to determine the mass-to-charge ratio of the particle based upon the radius of the particle's deflection inside the magnetic field. The diagram below is an example of a mass spectrometer: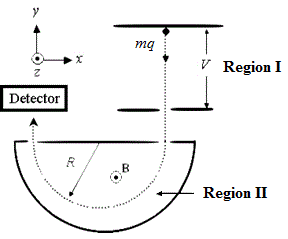 Figure 1.
Diagram of a mass spectrometer setup.
Once the sample reaches Region I, the molecules have been atomized and dried and are passing through a vacuum to avoid interactions with their surroundings. The equation for the radius of the particle's flight is indicated below:

Equation 1
In Equation 1, r is the radius of flight, m is the particle's mass, v is the particle's velocity, q is the charge of the particle, and B is the strength of the magnetic field. In order to set a specific velocity for the particle, a velocity selector is used. The velocity selector uses both a magnetic field and an electric force. These two forces must be balanced for the particle to reach Region II of the diagram above. The set of equations that govern this relationship are as follows:
Fup = qvB
Equation 2
Fdown = qE
Equation 3
In Equations 2 and 3, q is the charge of the particle, v is the charge's velocity, B is the strength of the magnetic field, and E is the strength of the electric field.
.
---
Find an error? Take a screenshot, email it to us at error@mytestingsolution.com, and we'll send you $3!