P403
Posted by

Date

March 19, 2019
Ferric thiocyanate is a brick-red complex ion that is stable in an aqueous environment. In water, the ferric ion exists as a hydrated octahedral complex, Fe(H2O)63+. In the presence of thiocyanate ion (SCN–), the ferric thiocyanate ion is produced.

Fe3+(aq) + SCN–(aq) ↔ Fe(SCN)2+(aq)
Reaction 1
Since this product increases the concentration of protons present when added to water, it possesses Arrhenius acidic character. To determine the equilibrium constant for Reaction 1, various ratios of Fe
3+
and SCN
–
are combined and absorbance is measured with a spectrophotometer over ten trials.
The absorbance for the first five trials is measured and plotted against the known concentration of the FeSCN2+ (or initial SCN–) in order to help determine the concentration of FeSCN2+ for next five trials. The spectrophotometer is set to a wavelength consistent with the maximal absorbance of the compound.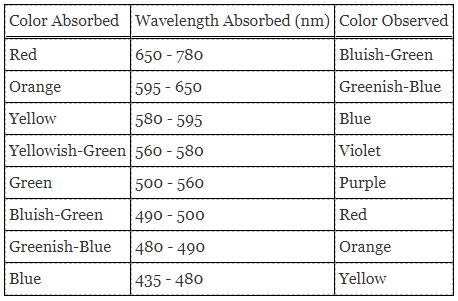 Table 1. Color absorbance and corresponding wavelength.
Ferric thiocyanate can be used in colorimetric analysis for applications like food biochemistry. Colorimetric analysis utilizes a color reagent in order to determine the concentration of a compound in solution. Ferric thiocyanate can help assess the extent of lipid hydroperoxides, as hydroperoxide reduction occurs alongside the oxidation of Fe
2+
to Fe
3+
. The reaction of ferrous chloride with ammonium thiocyanate will yield red ferric thiocyanate chromophore (groups in a molecule that absorb light) in the presence of hydroperoxide.
.
---
Find an error? Take a screenshot, email it to us at error@mytestingsolution.com, and we'll send you $3!