P1000
Posted by

Date

January 24, 2020
Nicotine is an alkaloid, a class of naturally-occurring compounds often extracted from plants. The pure compound is oily with moderate solubility in water and a boiling point of 246 °C. A group of students prepare an experiment to extract pure nicotine from tobacco leaves. A total of 3 grams of crushed tobacco leaves were placed along with 75 mL of water and 0.3 g of tartaric acid, a diprotic organic acid, into a flask (Note: The tartaric acid must be added in at least a 2:1 tartaric acid:nicotine molar ratio). The flask was boiled for 20 minutes with a reflux condenser above it.

Figure 1. Chemical Structure of Nicotine (162 g/mol)
Once the resultant mixture had cooled, 6 mL of 3 M NaOH were added, followed by 80 mL of water. The entire solution was then transferred to a simple distillation apparatus where the mixture was boiled and 50 mL of condensed distillate was collected.
NaCl was then added to the distillate until the solution became saturated with the NaCl. The solution was transferred to a separatory funnel and extracted twice successively with 15mL aliquots of diethyl ether. The ether layers were pooled together and dried with anhydrous sodium sulfate.
After filtering out any solids, the ether was removed with a rotary evaporator. The crude, dry nicotine dissolved in a small amount of diethyl ether and spotted onto a thin-layer chromatography plate using aluminum oxide as the stationary phase and ethyl acetate/petroleum ether as the mobile phase. This spot was compared with a spot of pure nicotine and the resulting blot results are shown below.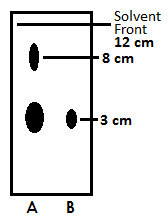 Figure 2. Thin-layer chromatography blot with crude nicotine sample (A) and pure nicotine standard (B)
---
Find an error? Take a screenshot, email it to us at error@mytestingsolution.com, and we'll send you $3!