P1004
Posted by

Date

January 23, 2020
Lentiviruses are a class of positive-sense, single-stranded RNA viruses. Their genomes encode reverse transcriptase and integrase enzymes that facilitate the transfer of viral genetic information into the host chromosomes. A classic example of this genus is the human immunodeficiency virus (HIV). To study the biology of HIV, a set of experiments was conducted.
A researcher thinks she has identified a gene that encodes a cell surface receptor, Viral Entry Receptor 3 (VEP3) that is necessary for the virus to enter the cell. She prepared several dishes of cell line C8166-R5 that is known to express this receptor. She also prepared several dishes of C8166-R5 that have a nonfunctional version of the VEP3-encoding gene. To one set of cultures, she added a compound that competitively inhibits the association of the virus with VEP3. After establishing appropriate controls, she inoculated each experimental culture with HIV.
After an incubation period, she counted the number of plaques, which indicate cells lysed by the virus, formed on each plate. Figure 1 depicts the average number of plaques per experimental condition.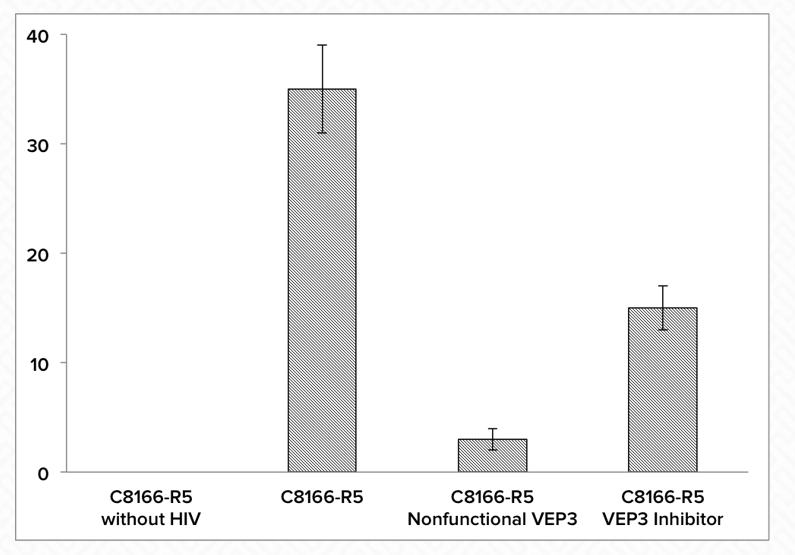 Figure 1. Average plaque formation
---
Find an error? Take a screenshot, email it to us at error@mytestingsolution.com, and we'll send you $3!