P820
Posted by

Date

April 12, 2019
A researcher was investigating the extent to which social pressure from a group majority influences an individual to conform. One study placed individuals in staged groups in which the group was instructed to provide incorrect judgments with respect to the interpretation of certain clinical trials. The group would be asked to vocally interpret the results, with the actual study participant speaking last, such that he/she would hear all of the other interpretations prior to providing his/her interpretation. It was found that about three-quarters of study participants conformed to the group's incorrect interpretations.
In a separate study, the role of task importance as it relates to conformity was examined. A similar experiment as the one presented above was repeated, where study participants would attempt to analyze clinical trials in the presence of staged actors who would intentionally interpret certain trials incorrectly. In this new experiment, several additional variables were modified. First, high and low difficulty settings were created by decreasing the amount of time allowed for analysis as well as increasing the frequency of displaying various trials. Second, 'importance' was manipulated by telling participants that if they were in the top 12% of respondents with respect to accuracy, there would be a monetary award at the end of the study; participants randomized to the 'non-important' group were not told this information.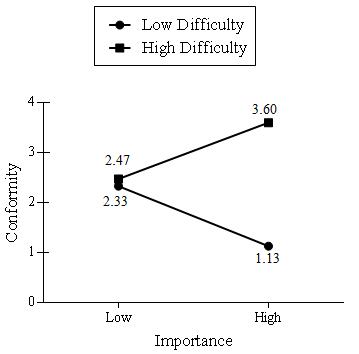 Figure 1.
Levels of conformity (arbitrary scale from 0-4) for the various experimental groups. Statistical significance with p<0.05 attained with conformity level differentials greater than 0.6.
.
---
Find an error? Take a screenshot, email it to us at error@mytestingsolution.com, and we'll send you $3!