P627
Posted by

Date

March 28, 2019
Polymerase chain reaction (PCR) is used to replicate a gene segment located between two primers. Reverse-transcriptase PCR (RT-PCR) allows scientist to assess exactly which genes are being expressed in a species. In RT-PCR, the transcribed mRNA, along with primers and the reverse transcriptase enzyme, is used in PCR to develop a cDNA library. The benefit of this information compared to traditional PCR is that scientists can specifically examine only the genes that are being actively translated from DNA to RNA.
A researcher investigated the effect of ultraviolet light on the expression of melanin in skin, specifically the pro-opiomelanocortin (POMC) gene. After POMC is expressed, a post-translational modification will cleave POMC into two active peptide subunits, one of which is a melanocyte-stimulating hormone.
In the first experiment, the researcher exposed skin cells cultured in vitro to UV light for various lengths of time. After exposure, the cells were harvested and RT-PCR was performed using primers specific for the POMC gene. After completion of the PCR process, the DNA was loaded into an agarose gel and used in gel electrophoresis.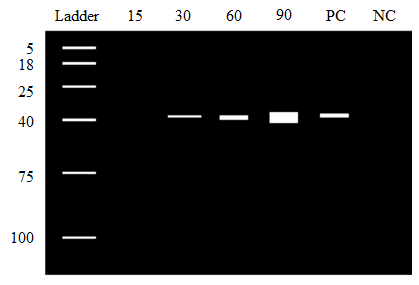 Figure 1.
Gel electrophoresis of DNA obtained after RT-PCR of extracted RNA. Numbered lanes indicate the number of minutes of UV exposure received in each treatment of the skin cells. PC = positive control, NC = negative control. Ladder is in units of kb.
In the second experiment, the cultured skin cells were exposed to UV light and after a period of 48 hours, melanin was extracted from the cells.
Table 1. Melanin concentrations extracted from cell culture after varying levels of UV exposure.
UV Light Exposure
(min)
Melanin Concentration
(ng/g)
30
15
60
34
90
43
120
42
240
45
A third experiment was conducted with the intention of optimizing the RT-PCR multiplication of active genes. The first experiment was repeated with the use of three different reverse transcriptase enzymes and two different primer sequences. The reverse transcriptase enzymes were MMLV (obtained from Moleny murine leukemia virus), AMV (obtained from avian myeloblastosis virus), and TRT (telomeric reverse transcriptase from thermophilic eukaryotes). RT-PCR was carried out at 37 °C. In each sample, DNA concentration was measured after 40 cycles.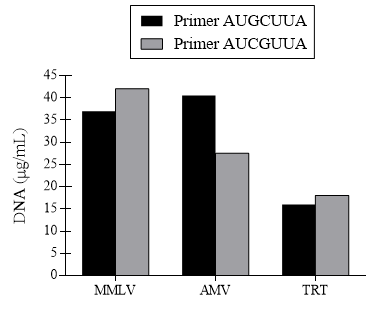 Figure 2.
DNA concentrations of RT-PCR reactions catalyzed by various reverse transcriptase enzymes with two different primers.
.
---
Find an error? Take a screenshot, email it to us at error@mytestingsolution.com, and we'll send you $3!