P626
Posted by

Date

March 28, 2019
Celecoxibs, also known as coxibs, are a class of drugs known as nonsteroidal anti-inflammatory drugs (NSAIDs). Coxibs are selective towards the enzyme cyclooxygenase (COX), and bind allosterically to COX-1 and specifically to COX-2, in an irreversible manner for both.
Coxibs are used in the treatment of numerous ailments such as osteoarthritis, rheumatoid arthritis, and other acute inflammation symptoms. Patients with rheumatoid arthritis were often prescribed a celecoxib to treat inflammation and were also often recommended to take a low-dose aspirin for its cardioprotective effects. However, coxibs exhibit harmful cardiovascular side effects, especially when taken with aspirin, due to the aspirin's inhibition of COX activity. Additionally, the cardioprotective effects of aspirin are compromised when aspirin and coxibs are coadministered.
Figure 1 illustrates how the phospholipid bilayer is cleaved by the enzyme phosopholipase A2, which creates arachidonic acid (AA), the substrate for the COX enzymes. While COX-1 is constitutively expressed throughout the body, COX-2 arises only at the site of inflammation.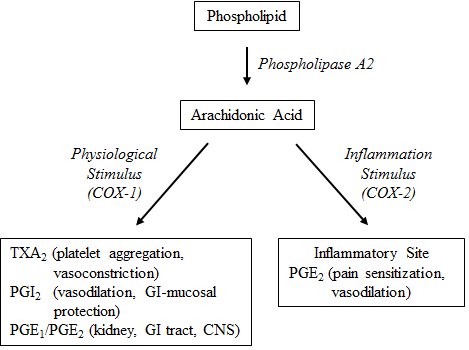 Figure 1.
Cyclooxygenase pathway with arachidonic acid substrate.
.
---
Find an error? Take a screenshot, email it to us at error@mytestingsolution.com, and we'll send you $3!