P620
Posted by

Date

March 27, 2019
Several single nucleotide polymorphisms (SNPs) are implicated in inflammatory bowel disease. For the human gene NOD2, the SNPs rs2066844, rs2066845, and rs2066847 are more prevalent in patients with inflammatory bowel disease when compared to healthy control subjects. Nucleotide-binding oligomerization domain-containing protein 2 (NOD2) has 2 CARD domains, a nucleotide-binding domain, and 11 leucine-rich repeats which form protein-protein interactions during signalling.
NOD2 belongs to a family of proteins called pattern recognition receptors. Many pattern recognition receptors have leucine rich repeats that recognize conserved molecular motif produced by bacteria, fungi, and viruses. NOD2 binds bacterial peptidoglycans present in the cell wall of Gram positive bacteria. When NOD2 binds peptidoglycan, the transcription factor NF-κB is activated and translocates to the nucleus. Nuclear NF-κB promotes transcription of inflammatory genes. NF-κB activation ultimately results in the production of cytokines like TNF by immune cells. It is hypothesized that SNPs in the NOD2 gene result in an altered NOD2 protein which is unable to sense and respond appropriately to bacteria. This altered immune response could contribute to inflammatory bowel disease.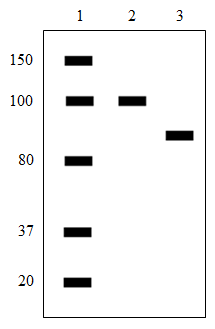 Figure 1.
Western blot probed with anti-NOD2. Lane 1 = fluorescent protein ladder, Lane 2 = wild-type cell lysate, and Lane 3 = rs2066847 lysate. Units are in kDa.
In a second experiment, immune cells were stimulated with bacterial peptidoglycan and TNF production was measured by ELISA.
Table 1. Comparison of immune responses in wild-type vs. rs2066847 cells.
| | | |
| --- | --- | --- |
| Cells | Peptidoglycan | TNF (pg/mL) |
| Wild-type | – | 0 |
| rs2066847 | – | 0 |
| Wild-type | + | 1200 |
| rs2066847 | + | 0 |
.
---
Find an error? Take a screenshot, email it to us at error@mytestingsolution.com, and we'll send you $3!