P612
Posted by

Date

March 26, 2019
The general consensus in the scientific community is that stem cells can renew themselves using two independent mechanisms. The first mechanism is an asymmetrical division, while the second is a symmetrical division that is more commonly observed in specialized cells. Scientists have long investigated the cellular factors responsible for either promoting or suppressing the differentiation of stem cells into specialized cells with defined form and functions. Increasing knowledge of the regulatory roles of miRNAs in various cellular processes led researchers to explore the role of miRNAs in stem cell maturation and proliferation.
First, the scientists infected mouse primary keratinocytes with miRNA-GFP constructs. Only infected cells express the green fluorescent protein. Once the infected cells were harvested, they were cultured on fresh media for fifteen days and the number of undifferentiated colonies formed were counted.

Figure 1.
Experimental protocol for transduction of keratinocytes.
Based on the number of colonies observed, scientists could identify which of the miRNAs were involved in suppressing the proliferative nature of the stem cells. Later experiments revealed that in cultures with few colonies, the concentration of p63, a fundamental regulator of stem cell maintenance in epithelial tissues, was also significantly reduced.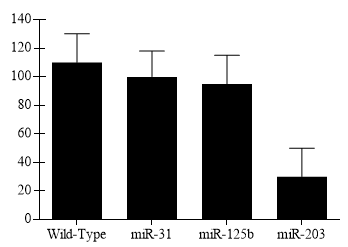 Figure 2.
Average number of colonies formed by transduced epidermal cells infected with miR-31, miR-125b, and miR-203. Wild-type cells were used as a control.
.
---
Find an error? Take a screenshot, email it to us at error@mytestingsolution.com, and we'll send you $3!