P611
Posted by

Date

March 26, 2019
T cells are important lymphocytes in adaptive immunity. In vivo, T cells activate and proliferate in response to antigens found on invading pathogens or cancerous cells. Antigens are recognized by the T cell receptor (TCR), which is found on the surface of T cells. Each T cell expresses a different TCR; thus, the human body can recognize and respond to millions of different antigens.
Scientists frequently study T cell activation and proliferation in vitro. To activate T cells and stimulate their proliferation, T cells are incubated with anti-CD3 and anti-CD28 in lieu of antigen. When activated, T cells rapidly secrete inflammatory cytokines such as IL-2 and IFN. These cytokines are used to assess T cell activation.
To study T cell proliferation, scientists used T cells labeled with fluorescent carboxyfluoresceinsuccinimidyl ester (CFSE). CFSE reacts covalently with amine groups; when cells divide, the CFSE-labeled molecules are split between daughter cells. CFSE-labeled T cells are incubated with anti-CD3 and anti-CD28 to stimulate proliferation and the fluorescence of each cell is assessed by flow cytometry seven days later.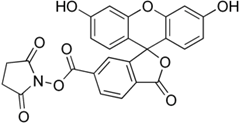 Figure 1.
Structure of carboxyfluoresceinsuccinimidyl ester (CFSE).
Following activation of the T cells and their incubation with CFSE, flow cytometry was used to analyze the T cell population.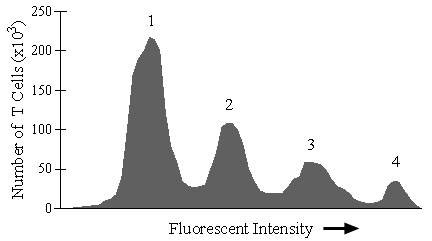 Figure 2.
Flow cytometric analysis of T cell proliferation.
Supernatants from a T cell activation assay in the presence and absence of compound A were then assessed for cytokine production by ELISA. Sham was used as the control sample of cells without the addition of antibodies or compound A.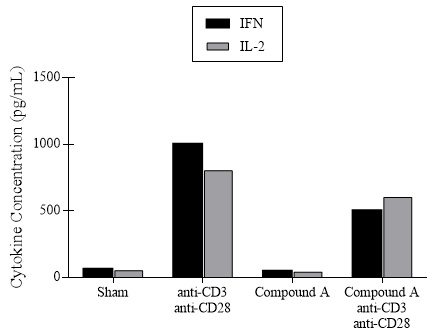 Figure 3.
Cytokine responses of T cells after exposure to various antigens.
.
---
Find an error? Take a screenshot, email it to us at error@mytestingsolution.com, and we'll send you $3!