P442
Posted by

Date

May 11, 2019
Two moles of a diatomic gas P2 were mixed with four moles of another diatomic gas Q2 in two closed vessels in which the pressure could be altered.
In Experiment 1, carried out at 25 °C, all of the P2 and Q2 molecules reacted to yield one triatomic product (X). This took place spontaneously and was associated with an increase in the temperature of the reaction vessel.
In Experiment 2, carried out at 0 °C, the reaction vessel was attached to a water manometer: a thin U-tube partially filled with water that allows one to determine the pressure inside the vessel as demonstrated in the figure below (Fig. 1).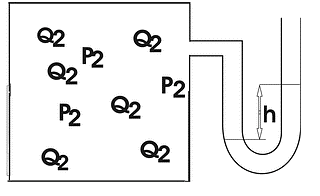 Figure 1. Reaction Vessel.
For a final experiment, with the use of energy, a student reversed the reaction given in experiment 1. Experimental observation and kinetic analysis allowed the student to determine the rate law. It was found that the reaction is second order with respect to the triatomic compound X.
.
---
Find an error? Take a screenshot, email it to us at error@mytestingsolution.com, and we'll send you $3!