P441
Posted by

Date

May 11, 2019
Atoms, molecules, and ions all possess internal energy. Using various techniques, it is possible to raise the internal energy of a chemical species. One technique is through the absorption of electromagnetic radiation. There are three types of internal energies, all of which are quantized, meaning, they exist at discrete energy levels.
First, the molecule has the ability to rotate about various axes, the energy of rotation being at definite energy levels. Therefore, the molecule may absorb radiation and be raised to a higher rotational energy level in a rotational transition. Similar energy changes occur for the two other types of transitions: vibrational and electronic, both of which should be accounted for when dealing with internal energy of atoms.
Purely rotational transitions can occur via absorption of radiation in the infrared and microwave regions of the electromagnetic spectrum. Vibrational transitions require the energy from visible light, and electronic transitions are facilitated by ultraviolet radiation. Out in space, the sun produces an emission spectrum (Figure 1) of which can be inferred as to how specific internal energies can be raised.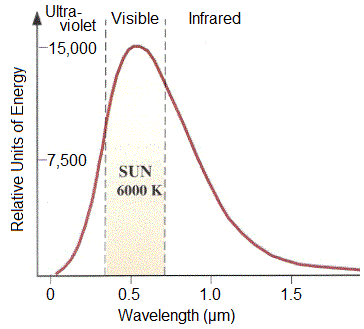 Figure 1. Emission Spectrum of the sun.
The speed at which electromagnetic radiation travels in space can be simulated by the same radiation traveling through a transparent medium. The speed can be calculated by the equation: v = c/n = f x (wavelength), where n is the refractive index of the material.
h = Planck's constant = 6.6 x 10-34 J s
c = velocity of light in free space = 3 x 108 m s-1
.
---
Find an error? Take a screenshot, email it to us at error@mytestingsolution.com, and we'll send you $3!