P425
Posted by

Date

March 22, 2019
An RC circuit containing both a resistor and a capacitor has unique properties allowing the passage of certain signals and the blockage of other signals from passing through the circuit. A student builds a circuit to demonstrate the properties of resistors and capacitors.
.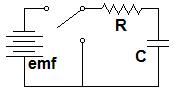 Figure 1. Student's circuit diagram.
.
A parallel plate capacitor separates charge across a space between two oppositely charged plates. The plates of a capacitor are made of conductive metal. To maximize the efficiency of a capacitor, a dielectric (a material used to minimize lost charge) is usually included. Dielectrics are made of insulating materials that are polarizable, but do not conduct electricity.
If the voltage across a capacitor becomes too great, it can discharge across the plates. The discharge can result in a visible spark depending on the amount of charge released. In the event that the capacitor material and dielectric are not permanently degraded, this sparking process can continue cyclically as charge continues to build. This behavior is shown below:
.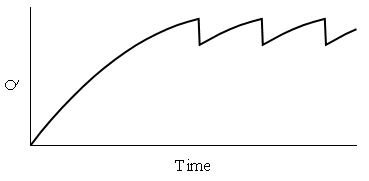 Figure 2. Charge on a capacitor with a high voltage during dielectric breakdown.
.
---
Find an error? Take a screenshot, email it to us at error@mytestingsolution.com, and we'll send you $3!