P424
Posted by

Date

March 22, 2019
The transfer of oxygen from air into the blood is influenced by a number of factors, including available oxygen concentration, red blood cell count, and concentration of the hemoglobin. As air enters the lungs, oxygen diffuses into the capillaries of the alveoli, where the oxygen makes contact with the hemoglobin in erythrocytes. The diffusion of oxygen and carbon dioxide in the lungs is related to the partial pressures of the gases, as shown in Figure 1.
.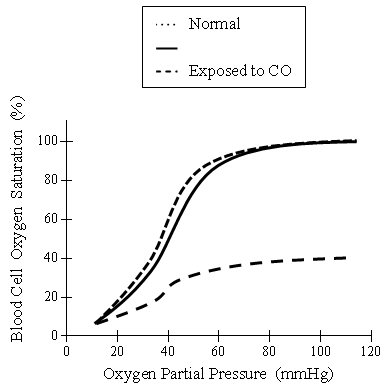 Figure 1. Oxygen saturation levels versus partial pressure of oxygen for different environmental conditions.
.
As the blood moves through the body, oxygen is released in the tissues, and carbon dioxide diffuses into the bloodstream. Carbon dioxide can enter the blood as either the bicarbonate ion, dissolved in solution, or bound to hemoglobin or other proteins. The formation of the bicarbonate ion is catalyzed by the enzyme carbonic anhydrase.
.
CO2 + H2O ↔ HCO3– + H+
Reaction 1
.
The reverse reaction, in which bicarbonate is converted into CO
2
, is also catalyzed by carbonic anhydrase. Typically, in high concentrations of CO
2
, the forward reaction occurs, and in high concentrations of bicarbonate (such as the alveoli), the reverse reaction occurs.
The rate equation for the release of carbon dioxide from the periphery into the bloodstream is given by:
.
k = AeP/RT
Equation 1
.
In Equation 1, k is a dimensionless rate constant, P is the partial pressure of CO
2
in kPa, R is the ideal gas constant 8.314 kPa·°C, A is the pre-exponential factor (given as 1.5), and T is the temperature in °C.
.
---
Find an error? Take a screenshot, email it to us at error@mytestingsolution.com, and we'll send you $3!