P413
Posted by

Date

March 20, 2019
For a physics laboratory, three groups of students were provided various circuit elements and asked to construct a circuit. The available materials included an assortment of batteries, resistors, and capacitors, as well as a voltmeter, conducting wire, and light bulbs. The students were instructed to choose three or more circuit elements and design a fully functional circuit.
Group 1 constructs a circuit using three resistors and two batteries: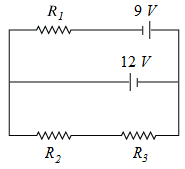 Figure 1.
Circuit diagram for Group 1.
The students explain that resistors are circuit elements typically used to provide a precise amount of resistance in a circuit. The value of a resistor can be described in terms of ohms (resistance) or watts (heat energy dissipated).
Group 2 constructs a circuit using a battery, two resistors, and a capacitor: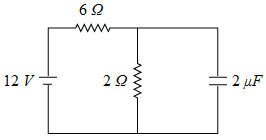 Figure 2.
Circuit diagram for Group 2.
Group 2 explains that capacitors are used to store energy in the form of an electrostatic field, where E = Q/Aε0. Individual capacitors are described in terms of their capacitance, a constant value calculated by dividing the absolute charge on one plate by the voltage across both plates (C = Q/V). Capacitors may be integrated in series or in parallel, with each arrangement having a different effect on values of the overall circuit.
Group 3 constructs their circuit using a battery, two light bulbs, and a voltmeter: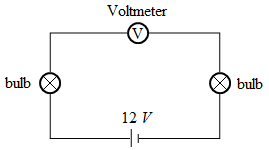 Figure 3.
Circuit diagram for Group 3.
They explain that voltmeters are used to measure voltage across circuit elements, but voltmeters have high resistance and can actually prevent current from flowing through the other elements. The students also point out that the light bulbs act as resistors, and when sufficient current flows through an individual bulb, it will emit energy that can be seen as light.
.
---
Find an error? Take a screenshot, email it to us at error@mytestingsolution.com, and we'll send you $3!