P823
Posted by

Date

April 13, 2019
Numerous factors have been associated with one's concept of deviance. Social constructions of deviance not only vary across cultures and subcultures, but also across time. Behaviors that were once considered socially acceptable may now be deviant and behaviors once considered deviant may now be socially acceptable. Public stereotypes of deviance in 1965, for instance, provide a comparison for comparing how perceptions of deviance have changed over the last half century.
In 1965, an American sociologist group asked 180 individuals to "list those things or types of persons whom you regard as deviant." Fourteen responses were given by at least 10% of respondents. The frequencies of these responses are provided in the figure below. In addition to the top fourteen responses, 'career women', 'junior executives', 'know-it-all professors', and 'girls who wear make-up' were also mentioned. The researchers also found that men and women perceived certain deviant behaviors differently. For instance, the researchers found women to be more intolerant of sexual deviance than men at that particular time point. Behaviors perceived as deviant have been historically controlled in society through institutional means, e.g., making such behaviors criminal or functionally prohibitive. This codification of deviant attributes is a fluid and constantly changing process.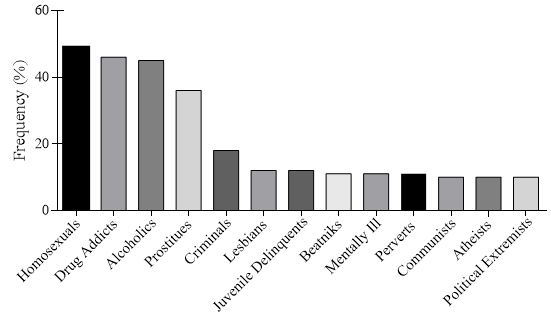 Figure 1.
Public stereotypes of deviance in 1965. Frequency depicts percentage of respondents who listed the group as deviant.
.
---
Find an error? Take a screenshot, email it to us at error@mytestingsolution.com, and we'll send you $3!