P805
Posted by

Date

April 8, 2019
Social capital has classically played an important role in disaster recovery. Post-disaster recovery is essential for development of local economies and livelihood of individuals who depend various economical structures. In a recent study, researchers examined the role of social norms, trust, networking, and participation as aspects of social capital in recovery.
Japanese researchers have focused on the role of social capital in post-earthquake recovery programs comparing an earthquake in Kobe, Japan to an earthquake in Gujarat, India. In the Japanese earthquake, communities with high levels of social capital proactively participated in recovery efforts. From the Japanese example, the researchers developed a model of linking, bonding, and bridging social capital that was then applied to the four communities after the Indian earthquake. The researchers found a positive relationship between social capital and recovery rates. Moreover, community leaders were found to play a prominent role in the fostering of social capital to expedite the recovery process through enabling cooperative decision-making. Leadership was found to be a greater factor in disaster recovery than socioeconomic or cultural properties of a community. To reach this conclusion, the researchers conducted a survey in four Bhuj communities regarding their satisfaction for norms, town planning, collective action, trust, and networks.
To prepare for future disasters, the researchers provide three action items for improving social capital: recognize, preserve/conserve, and invest. These items are intended to promote a shared sense of community that would lead to more efficient problem solving in the event of a disaster. Policy efforts from the grassroots levels can be designed to enhance recovery efforts and build social capital. Policy efforts to enhance social capital in Khatri, for instance, have allowed the community to collect surplus post-disaster resources for supporting surrounding communities in the event of a future disaster.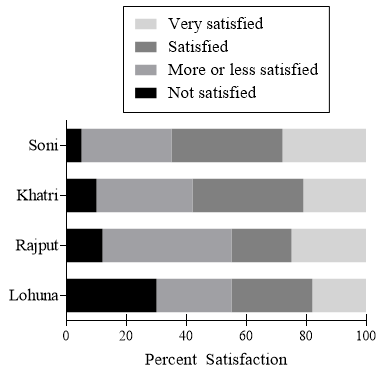 Figure 1.
Satisfaction for town planning among Bhuj communities.
.
---
Find an error? Take a screenshot, email it to us at error@mytestingsolution.com, and we'll send you $3!