P653
Posted by

Date

April 21, 2019
"Polymerase chain reaction (PCR) is a method to amplify fragments of DNA. It involves use of a template DNA (a part or whole of which might be amplified), primers that flank the region of interest, a thermostable DNA polymerase like Taq polymerase that makes copies of the DNA, and the nucleotides and other components required for optimal enzyme function.
The PCR reaction is carried out in a thermocycler that takes the reaction mix through cycles of denaturation at about 95 °C (causing separation of DNA strands), annealing the primer to the template DNA (generally 50-60 °C) and extension of the primer by DNA polymerase to generate copies of the template (carried out at 72 °C). Small amounts of magnesium are also necessary for DNA polymerase activity. The primers are designed so that one primer will bind to each strand of the template DNA, generating two products per template molecule, each product complementary to the strand it is synthesized from.
Primers, small DNA fragments that are complementary to the template DNA strands, are utilized by the DNA polymerase to initiate the DNA synthesis. They are extended from their 3′ ends by the polymerase to form the products. The melting temperature of the primer, which is the temperature at which the primer will separate from its complementary strand, is an important parameter for experimental design of PCR reactions. This process is shown in the figure below.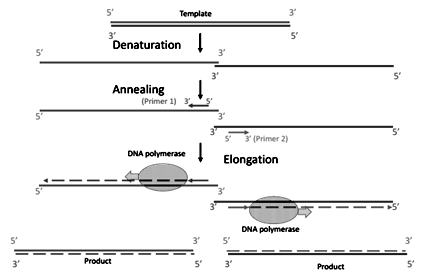 "
.
---
Find an error? Take a screenshot, email it to us at error@mytestingsolution.com, and we'll send you $3!