P649
Posted by

Date

April 21, 2019
"Nitriles are a prominent class of organic molecules included in a wide variety of natural products, biologically active compounds, industrial processes, and used as building blocks for further synthetic elaboration. Typical routes to prepare nitriles proceed with low atom economy, require toxic reagents, and/or have limited selectivity. Recently, a metal based inorganic catalyst HRu(bmpi)(PPh3)2 (Catalyst 1), has been shown to catalyze the acceptorless dehydrogenation of primary amines to nitriles (Figure 1) in good yields. The reaction releases two equivalents of hydrogen which could potentially be captured and used in a hydrogen fuel cell.


Figure 1. HRu(bmpi)(PPh3)2 displayed in box. Generic reaction scheme shown.
In an effort to probe the reactivity of this complex, a student performed several reactions with different substrates. The results are shown in the table below.

Table 1. Substrate scope of reactivity for HRu(bmpi)(PPh3)2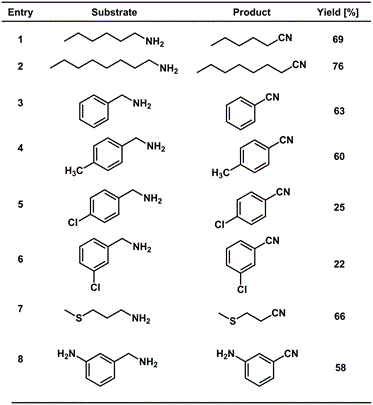 "
.
---
Find an error? Take a screenshot, email it to us at error@mytestingsolution.com, and we'll send you $3!