P616
Posted by

Date

March 26, 2019
Neurotransmitters are vital to bodily function and are synthesized in the central part of the neuron. Scientists have recently discovered a new type of excitatory neurotransmitter, and named it EMNT. EMNT is a dimer capable of being cleaved into two parts, EM, and NT by the enzyme EMNTase, which is located in the synaptic cleft. After cleavage, the EM subunit can bind to a receptor on the next neuron's cell membrane, whereas the NT subunit is transported back into the releasing axon through active transport, where it can be used to form a new EMNT molecule.
A study was conducted on the gene inheritance of the EMNT-factor, where afflicted subjects lack the production of EMNTase.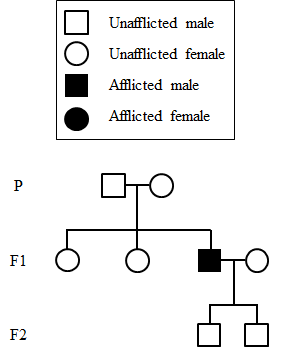 Figure 1.
Gene tree of a family examining inheritance of the EMNT-gene.
Furthermore, a study examining patients with mutations in the EMNTase protein was conducted, and an enzyme assay was conducted and plotted using a Lineweaver-Burk (LB) plot. The results from the study are plotted below.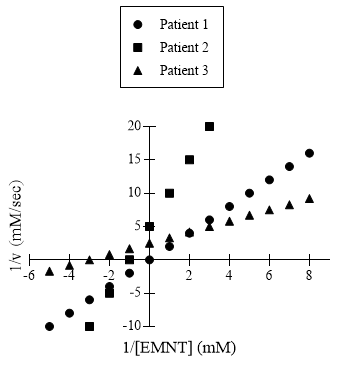 Figure 2.
Lineweaver-Burk plot of three patients suffering from a mutation in EMNTase.
.
---
Find an error? Take a screenshot, email it to us at error@mytestingsolution.com, and we'll send you $3!