P614
Posted by

Date

March 26, 2019
In cancer biology research, researchers often use cell lines to characterize translation abnormalities and test translation modifiers before starting in vivo experiments. The HepG2 cell line is used by many scientists who investigate Hepatocellular Carcinoma (HCC), a type of liver cancer.
HCC is a leading cause of cancer-related mortalities and is mostly diagnosed only after metastasis to local organs matures into solid tumors in those organs. Invasion is one of the first steps of metastasis, which is why anti-invasion therapeutics are of great interest to researchers.
Researchers tested the hypothesis that they could inhibit invasion of HepG2 cells by silencing a single protein involved in cell motility. They are small interfering RNA (siRNA) which are designed to silence the expression of the desired protein. After transfecting the cell lines with siRNA molecules, the cell lines were studied with invasion assays, where invasion was measured by the number of cells that crossed an artificial extracellular matrix.
Table 1. siRNA molecules used in each sample of transfection experiment.
| | | | | |
| --- | --- | --- | --- | --- |
| Sample |   A |   B |   C |   D |
| Wu12 siRNA | – | + | – | – |
| Ahe84 siRNA | – | – | + | – |
| NSY837 siRNA | – | – | – | + |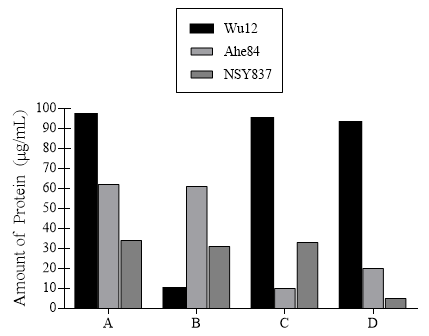 Figure 1.
Western Blot analysis of transfected cell lines. All samples were normalized against a housekeeping gene, or a commonly expressed gene.
The same siRNA samples were then used in an invasion assay where the average invasion was recorded.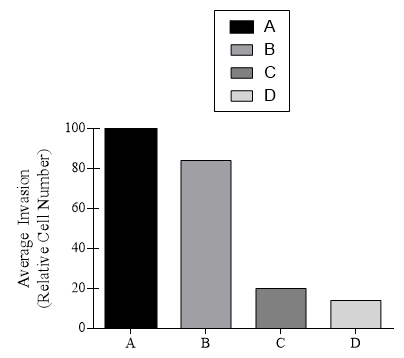 Figure 2.
Invasion assay of transfected cell lines.
.
---
Find an error? Take a screenshot, email it to us at error@mytestingsolution.com, and we'll send you $3!