P609
Posted by

Date

March 24, 2019
During chemotherapy, the production of both red and white blood cells is diminished due to the negative side effects the chemicals have on bone marrow. However, after the end of chemotherapy, patients typically experience a rapid increase in the concentration of blood cells, sometimes to a level higher than before chemotherapy began. In some patients experiencing chemotherapy-related anemia, drugs are developed which can encourage the production of red blood cells. These drugs act in a variety of ways, including upregulation of erythropoietin, downregulation of apoptosis, and upregulation of thymosin, which improves white blood cell formation in the thymus gland.
In a first experiment, wild-type mice were subjected to gemcitabine doses which killed 60% of their red blood cells. This was followed by treatment with a mixture of erythropoietin, thymosin, and procarbazine. After 24 hours, red blood cell count was measured.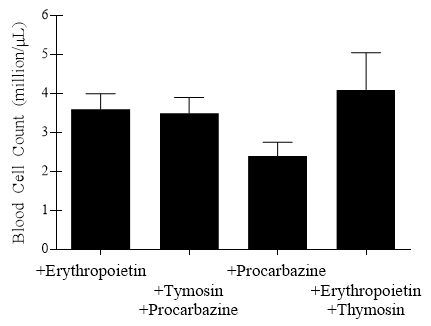 Figure 1.
Red blood cell count in mice after treatment with various drug combinations.
In a subsequent experiment, a series of chemotherapy agents was tested for their effect on depressing white blood cell count, and each patient was treated with thymosin after a 2 week chemotherapy regimen.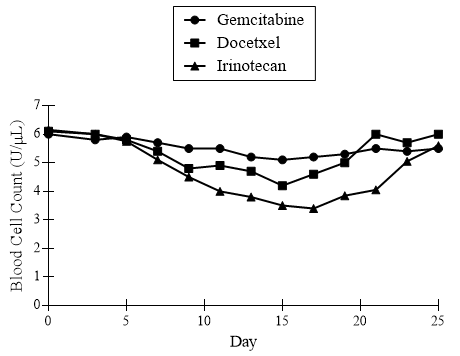 Figure 2.
White blood cell count in patients over a 25 day period. Drug treatment occurred over the first 14 days.
.
---
Find an error? Take a screenshot, email it to us at error@mytestingsolution.com, and we'll send you $3!