P445
Posted by

Date

May 11, 2019
Forces have both magnitude and direction and are therefore considered vectors. According to Newton's Second Law, before an object can accelerate, there must be net force acting on it in the direction of acceleration.
If we consider a 1000-kg block sitting on a steep hill (as in the diagram below), it has three forces acting on it: friction force (FF) acts up the slope and prevents it from rolling down the hill, normal force (NF) is an upward force that is perpendicular to the ground and prevents the block from falling through the hill, and the force of gravity (GF) acts straight down on the block. The coefficient of sliding friction is independent of speed.
Acceleration occurs along the ground, and in order for the block to accelerate down the hill, the component of the weight down the hill has to be greater than the sliding friction force that is acting up the slope. In the case of this block, a minor push causes it to slide 100 m down the hill, descending a vertical distance of 70 m before hitting a wall at the bottom. Before colliding with the wall it reaches a speed of 20 m/s, and comes to rest 0.5 s during the collision.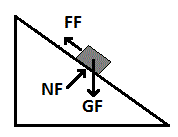 Figure 1. Forces acting on an object on an inclined plane
.
---
Find an error? Take a screenshot, email it to us at error@mytestingsolution.com, and we'll send you $3!