P439
Posted by

Date

May 10, 2019
Two experiments were conducted to explore the properties of a gas in the laboratory. The pressure of an unknown gas in a container can be measured using a manometer. With this device, pressure measurements are made relative to specific known references, such as a vacuum or ambient air pressure. In the first experiment, a chemist constructs a cubed, fixed container and filled it 5m high with a fluid with the density 1000 kg/m3. A manometer is used to measure pressure within the fixed container.
In the second experiment, the lid of the container is affixed to a freely-moving piston (Figure 1). In a series of independent processes, the piston is turned on and compresses the gas within the container. Additionally, the gas is subsequently heated, displacing the piston. The gas behaves as an ideal gas.
Following both experiments, the piston joint breaks and falls into the fluid, displacing a volume of water and floating at the surface.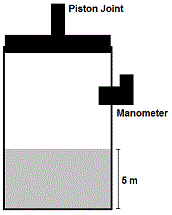 Figure 1. Second experimental setup. The piston (top) can pressurize the gas and fluid below.
.
---
Find an error? Take a screenshot, email it to us at error@mytestingsolution.com, and we'll send you $3!