P410
Posted by

Date

March 20, 2019
Myosin is a motor protein hexamer composed of two identical heavy chains and two pairs of light chains. Myosin contains three domains: head, neck and tail. The 87 kDa domains on each of the amino-termini of the heavy chains form the head domain of myosin. This head domain is the catalytic domain and contains the ATPase and actin-binding sites. The heavy chain creates an alpha helix of roughly 8 nm that is wrapped by each of these light chains to form a neck domain. The carboxy-termini of the heavy chains form the tail domain. Myosin light chain kinases are accessory proteins that regulate the function of myosin through the process of phosphorylation.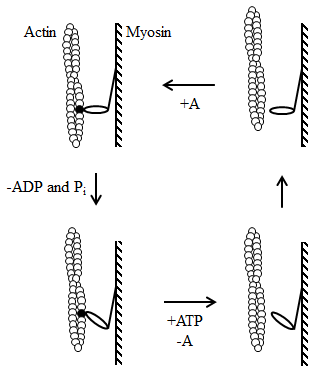 Figure 1.
Lymn-Taylor cycle and swinging cross-bridge model of how myosin moves along actin. This model of movement suggests that a linear relationship between the stroke size and sliding velocity.
An intramolecular conformational change in the myosin head results in a net displacement between the actin and myosin, ultimately causing the neck domain to swing to the head domain with a lever arm movement. As half of the compliance necessary for this movement is derived from myosin and the other half from actin, stiffness is doubled per myosin head.
ATPase activities of wild-type and mutant myosins were quantified in the presence and absence of myosin light chain kinase and the substrate actin. The following results were obtained:
.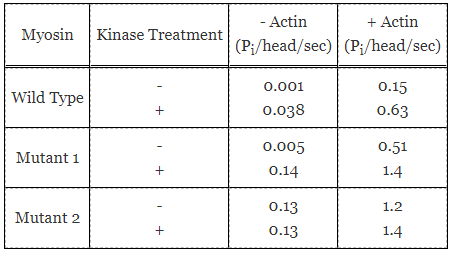 Table 1. ATPase activities of wild-type and mutant myosins.
.
---
Find an error? Take a screenshot, email it to us at error@mytestingsolution.com, and we'll send you $3!