P407
Posted by

Date

March 19, 2019
Modified carbohydrates are important molecules in drug research. While attempting to prepare a new class of drugs, a researcher carried out the following reactions:
.
6-O-Benzyl-1-β-D-methylglucopyranoside (A) was converted to 6-O-benyzl-2,3,4 triacetyl-1-β-D-methylglucopyranoside (B) by the addition of acetic anhydride
Reaction 1
The benzyl group is removed through catalytic hydrogenation yielding 2,3,4 triacetyl-1-β-D-methylglucopyranoside (C)
Reaction 2
The researcher observed that a considerable amount of heat was generated in both reactions.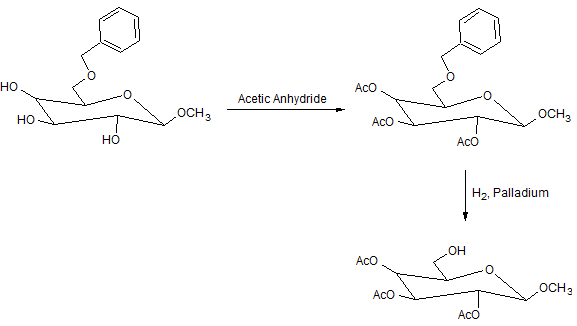 Figure 1.
Sequence of steps from Reactions 1 and 2 generating Compound C.
.
The crude reaction mixture was filtered to remove palladium, diluted with a 1:1 volume of dichloromethane: water, and transferred to a separating funnel. The two layers were allowed to separate and the organic layer was collected. The solvent was evaporated and the crude solid obtained was redissolved in a minimum amount of dichloromethane and spotted on a silica-coated thin layer chromatography plate as shown in Figure 2.
.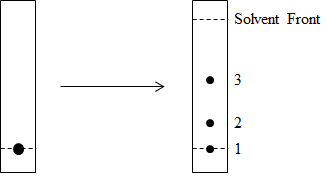 Figure 2.
TLC of reaction profile. Spot of mixture of unreacted A, unreacted B, and product C (left) is run in 8:2 hexane: ethyl acetate and developed using a carbohydrate-specific stain.
.
Column chromatography was then carried out to separate out the individual components from the reaction mixture. A glass column was packed with silica in hexane. The crude reaction mixture was dissolved in a minimal amount of dichloromethane and loaded into the column. A gradient of hexane and ethyl acetate, starting from 100% hexane to 40% ethyl acetate in hexane, was run to separate out components 3 and 2 sequentially. Finally, component 1 was eluted out of the column with 7:3 dichloromethane: methanol. This chromatographic separation enabled the researcher to recover the unreacted compounds A and B, as well as isolate pure product C. This enabled full characterization of C by mass spectrometry and NMR.
.
---
Find an error? Take a screenshot, email it to us at error@mytestingsolution.com, and we'll send you $3!