P1015
Posted by

Date

February 2, 2020
Pressure-volume systems can be seen in various forms in everyday life. The pistons in automobile engines and basketball pumps are two examples. These two examples represent opposite types of pressure-volume systems. An automobile engine adds heat to raise a piston, whereas a basketball pump uses work placed upon the piston to expel gas. Nonetheless, both are examples of pressure-volume work in some capacity.
Pressure-volume systems can also be used to explore the changes that gases experience as pressure and volume change. The gas experiences a contraction and an increase in pressure from point 1 to point 2. From point 2 to point 3, heat is absorbed and pressure rapidly increases. However, from 3 to 4 pressure falls as volume increases. To return to the beginning, from point 4 to point 1, the gas experiences a loss of heat and a decrease in pressure.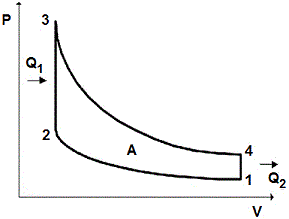 ---
Find an error? Take a screenshot, email it to us at error@mytestingsolution.com, and we'll send you $3!