(3) Full-Length

MCAT Practice Exams
Includes All Four Sections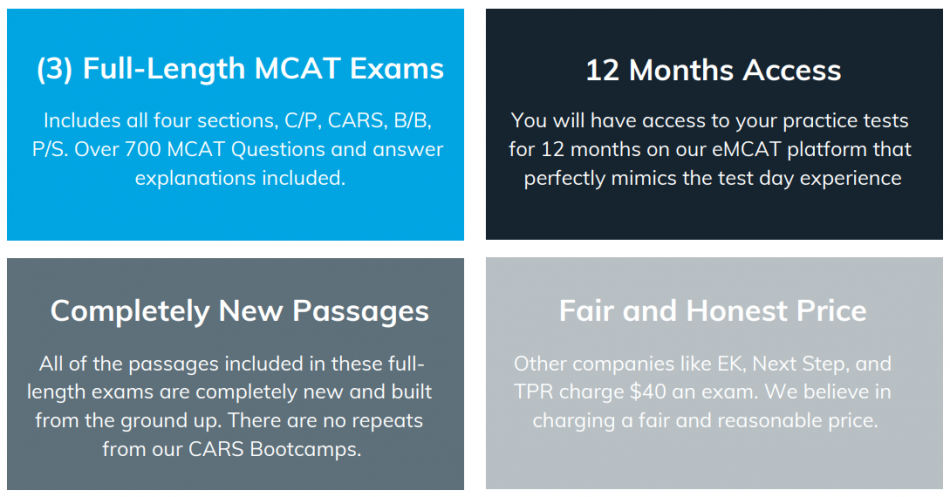 How Long Do I have Access?
This package includes 12 months of access to the practice tests.
How Many Attempts Do I Get?
This passage includes two attempts per practice test.
You will get instant access after you make your purchase!
Are Any Passages Repeated?
There are ZERO repeats included in these practice tests. Every single passage is new and has been built from the ground up. No passages are repeated in any of Testing Solutions other packages.
What if I'm Already a TS Customer?
You have two options. You can buy this package as a separate course by clicking the buy button below, or you can log in to your Testing Solutions account and select the green tab that says (3) Full-Length MCAT Practice Exams and make your purchase via our in-course payment gateway. We recommend the latter so all of your course materials are in one place, but you can do it either way.
Do You Offer a Money-Back Guarantee?
Of course we do! If you're not satisified for any reason, we'll refund 100% of your purchase price no questions asked. This means zero risk to you.
Meticulously Designed Practice at a Fair Price
[wpdevart_countdown text_for_day="Days" text_for_hour="Hours" text_for_minut="Minutes" text_for_second="Seconds" countdown_end_type="time" end_date="15-02-2020 23:59″ start_time="1581794820″ end_time="1,9,33″ action_end_time="hide" content_position="center" top_ditance="10″ bottom_distance="10″ countdown_type="circle" font_color="#000000″ button_bg_color="#3DA8CC" circle_size="130″ circle_border="5″ border_radius="8″ font_size="30″ countdown_font_famaly="monospace" animation_type="none" ][/wpdevart_countdown]