What

Our Students

Say About

US

:

Sana B.
City University of New York
129 – 95th Percentile
Here's what Sana had to say about Testing Solutions:
"Since English is not my first language, I knew I needed to practice a lot for the CARS. I got a 120 on my first CARS practice, and I almost immediately thought that I would have to postpone my [MCAT]. I tried ALL the resources out there for CARS Examkrackers, NextStep, Altius, Kaplan and Princeton Review. My score improved around 2 points and it plateaued at 122. I was hopeless at that point and was desperate to try anything. I finished the [Testing Solutions Bootcamp] and my score on the practice tests increased from 122 to 128.  I ended up with a 129 [on my real MCAT]. Improving from 120 to 129 is a huge jump and I definitely credit TS."
"Improving from 120 to 129 is a huge jump
and I definitely credit TS."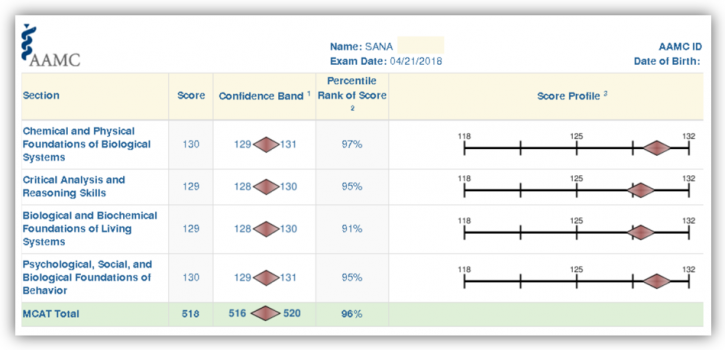 Jessica D.
University of Texas at Austin
128 – 89th Percentile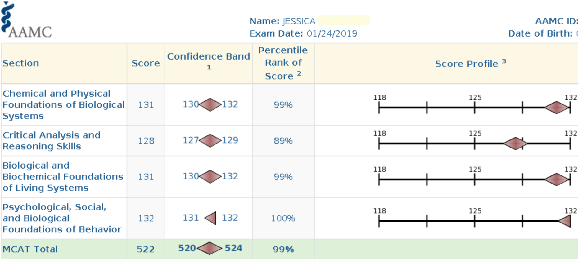 Here's what Sana had to say about Testing Solutions:
"I knew when I started studying for the MCAT that CARS was going to be my biggest hurdle. As a science major, the other sections felt natural to me because I had prepared for them for four years during my undergraduate degree, but I never "learned" how to properly prepare for any reading comprehension task. Testing Solutions was crucial for me to achieve the score I needed. The stringent schedule and ample practice material was exactly what I needed to feel as ready as I ever could be for my exam. I would recommend Testing Solutions to anyone that is willing to work hard for their dream score, as this program's schedule is built to do so many practice passages that CARS feels like second nature by the end. With this program, even those without a strong reading background can achieve their goals."

Cindy L.
Stanford University
132 – 100th Percentile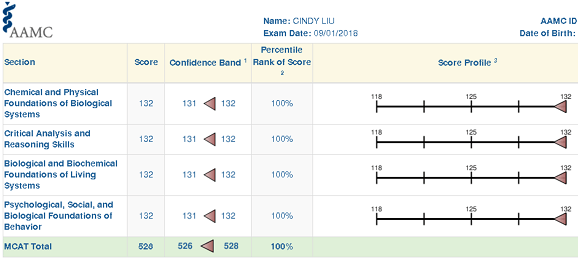 Here's what Cindy had to say about Testing Solutions:
"I just wanted to say thank you for creating such a great CARS Bootcamp course with Testing Solutions…I got my MCAT score back about 2 weeks ago and got a 132 on CARS! Honestly, I'm still in shock at my score…I started off with CARS being my worst section (with almost no improvement using the Kaplan/EK CARS strategies), but gradually improved and gained so much confidence through the bootcamp. I was initially struggling and felt really unsure of how to approach the section, but the Testing Solutions' Bootcamp helped tremendously (both practice passages and the written guides), and I truly believe that it was the biggest factor in my CARS score. I'll definitely be recommending the Testing Solutions' CARS Bootcamp to other people as the best CARS prep resource!"

Matt B.
Brooklyn College
129 – 95th Percentile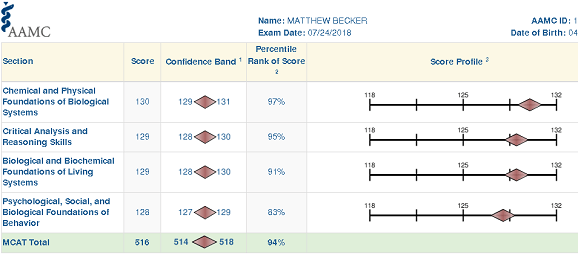 Here's what Matt had to say about Testing Solutions:
"When I started studying for the MCAT, it felt like an unmanageable task. There were so many methods and techniques that promised results. I was particularly concerned about CARS, which is something that seems to hold many people back. I'm extremely glad I found Testing Solutions. The Bootcamp impacted the way I tackled CARS. By the time I took the test it felt like second nature. I believe Testing Solutions has the best advice I've come across during my preparation. The practice tests are hard and really help to hammer home the critical reading skills required to succeed at the test. I began my preparation struggling with CARS and ended up with a 95th percentile score. [Testing Solutions] was the best investment I made in preparing for the MCAT."

Lemuel R.
University of Arkansas
128 – 89th Percentile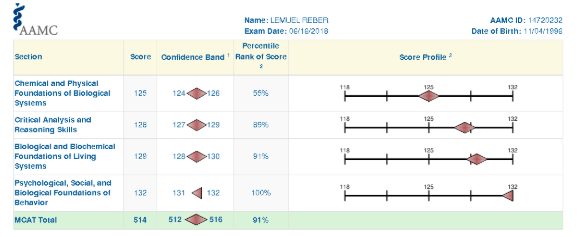 Here's what Lemuel had to say about Testing Solutions:
"If you're like me, then reading and comprehension is not your strength in academics. That's what made CARS so daunting…One phrase that has never left my memory back when I played pee-wee basketball as a third grader is this phrase: "Perfect practice makes perfect." The CARS Bootcamp from Testing Solutions provides that perfect practice. The passages…forced me to develop my reasoning skills quickly, and the explanations from Testing Solutions gave me insight into what question writers were really asking…There are tons of resources and materials for studying CARS out there, but you will be hard pressed to find any that are as concise and provide as intense preparation than the Testing Solutions CARS Bootcamp."
More than 525+ Reviews on Amazon
You Don't Have to Take Our Word For it!

"I've taken quite a few CARS full-length tests, and the Testing Solutions CARS full lengths are definitely some of the best I've taken. First, they do a great job in detailing the strategy used to approach each passage and question. The 30-day guide was definitely helpful. My timing was a bit off, but now I'm able to go through the test once well before time runs out…Overall, I would definitely recommend this product to students."

"Using the 30-Day guide I've already noticed my confidence in pacing go up. I just finished a cars section with 5 minutes left to go back and check marked questions! When previously I had to rush through the last 2 passages. I'm so glad I found Testing Solutions and their resources for CARS."

"I've been struggling so much with CARS this has given me the confidence I needed… I stay around 125 and this honestly has boosted me up in the first week to 127/128. I love this product so much...before I would give up, get frustrated, overall not see an improvement in my score. But after using this and making it apart of my everyday routine it's helped so much. I take my MCAT in 3 weeks and am confident that I will do well in the CARS section."

"I've gone through the entire 30-day guide and all I can say is that it was so much better than the crap the other companies spew out. Going through these tests, I can tell they are very similar to the actual MCAT (I've taken the exam once before)…this is very close to [the AAMC] and thus an excellent resource."

"2 months before my exam, I was beyond frustrated because I consistently hit 90+ percentile in c/p, b/b, and p/s, but <60 percentile in cars. I had been practicing CARS for a very long time using Kaplan, so I was ready to accept there would be little improvement in my cars strategy…I went through as many Testing Solutions practice passages as I could … Testing Solutions helped me critically think the right way for me to improve my cars scores from 50% to ~85%…My AAMC cars scores on FLs shot up, and I attribute it significantly to the Testing Solutions' guide."

"Very useful for someone who has no idea where to begin with the CARS section."

"I had taken MCAT once before and found the questions in [Testing Solutions} to be quite similar to the real MCAT – if not a little harder. If [CARS] is your bottleneck, then I'd definitely recommend this study package as it provides a lot of good-quality practice questions at a reasonable price. The question types included in T3 is also well optimized for MCAT – there is a good mix of question types (application, main idea, attitude) …These practice passages [have] helped me to both [become familiar] with the new MCAT and build confidence."

"I really like the structure. The program tells you what you should work on every day…The tests are also very difficult, and really good practice. Really valuable stuff."

"All the explanations were very detailed and helped me understand my mistakes and the reasoning behind every answer choice. I'm not a good reader at all and have always struggled to read quickly while maintaining good comprehension and understanding the main points. After my studying and practices, I was able to go from 125 to 127 on the actual exam."

"[Tests are] challenging. But [they do] stimulate what you will see during test day. As long as you're putting in the work and reviewing smartly."

"Great product, I really enjoyed the practice CARS tests from Testing Solutions. Very similar to the actual MCAT test questions, definitely challenging. Overall, very good practice!"

"I have purchased some other CARS practice passages from Exam Krackers, Kaplan, etc, and I find Testing Solutions' to be a more accurate representation of the division of question types and passage difficulty…The quality of question-answer explanations is very high."

"Very challenging passages that make the AAMC passages seem easy. Great practice."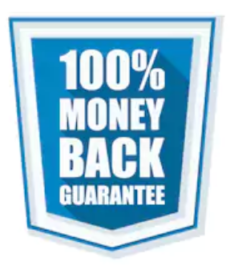 YOUR GOAL SCORE GUARANTEED
If you finish our CARS bootcamp 
and practice passages
and get anything less 
than your goal CARS score,
we'll refund you 100% of your purchase!
No risk, just your score guaranteed!