Guided Reviews of

AAMC Section Bank Passages

:
Work Directly with an 
Elite MCAT Tutor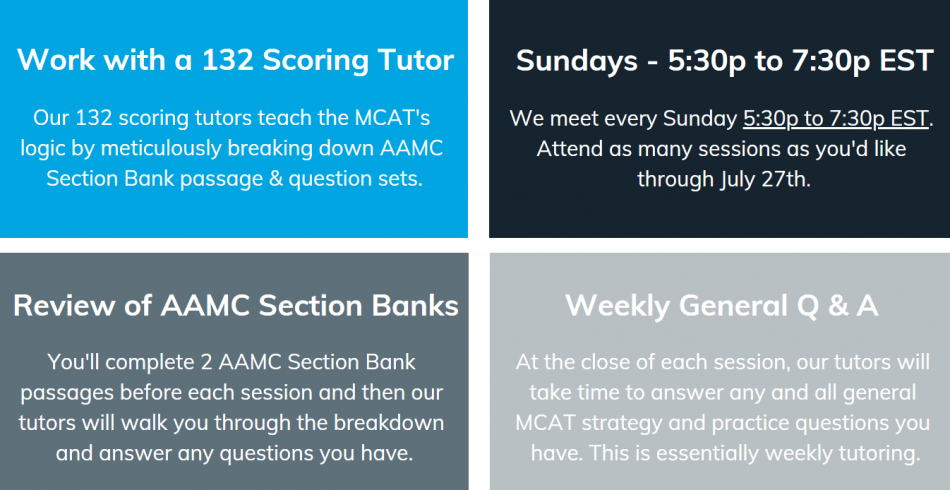 Sundays – 5:30p to 7:30p EST – Through July 27th
You Can Get Started This Weekend!
[ninja_tables id="188657″]
What if I have to miss a few sessions?
Each guided review session is designed to be a stand-alone resource, so missing a few sessions will not affect how much you get out of it in any way. You're welcome to attend as many or as few of the scheduled sessions as you'd like. Fewer than 50% of our students attend all of the sessions, rather they should be viewed as resources to get all of your questions answered about the MCAT (office hours) as well as guided reviews of as many MCAT passages as you'd like. Unfortunately, due to AAMC copyright regulations, we're unable to record these sessions.
While we are guaranteed to have sessions through July 26th, we are hoping to be able to extend the schedule all the way through the last MCAT in September, but this depends on enrollment.
How much interaction will I have with my tutor?
These small group sessions are designed to be highly interactive. It is strongly encouraged that you ask any and every question you have and participate in the reasoning exercises your tutor will lead you through. We make sure there is time at the end of every guided review session for any questions left either from the passages reviewed or general MCAT science strategy. At the end of every session, we have a general Q&A session so you can get all of your MCAT questions answered weekly as they come up!
For our students who have done both our guided review sessions and our 1-on-1 MCAT Coaching, they repeatedly say they feel the experiences are very similar and they get almost just as much in the guided review sessions. What's great is that the guided review sessions are only a fraction of the cost!
This coming Sunday! If it's a Sunday, you can get started that very evening! We'll email you after you sign-up with all the details!
Why only dedicated students?
In our experience, there are a few different kinds of students taking the MCAT. There are some that are somewhat interested in doing well but aren't committed to putting in the effort or time to really ensure success.
Then there are students who are 100% committed to doing everything in their power to master the science sections and get their goal score. These sessions are intensive dives into the logic of the science sections. It will be a lot of hard work. The students who do the best on the MCAT are consistently the ones who are the most dedicated and committed to improving their scores. We have seen amazing increases in scores from students who have chosen to participate and commit themselves to these guided review sessions.
The guided review sessions occur every Sunday night from 5:30p to 7:30p EST. You can get started as soon as you sign-up! If it's a Sunday, you can start that very night!
After you sign-up, we'll send you details regarding how to log on and attend the guided review sessions. We use Cisco's WebEx platform. It just requires you to click on a link and you're in!
Why should I buy this instead of the basic bootcamp?
The reality is that the MCAT keeps thousands of otherwise highly qualified applicants out of medical school each year. If you are serious about going to medical school and are concerned about the science sections, you should be using every single resource that is available to you to do well.
Our most serious students, the ones that are deeply committed to achieving their goals and fulfilling their dreams of going to medical school are the students who are taking this course. If you want to do incredibly well on MCAT, there is no better way to prepare than this.

Sana B.
City University of New York
129 – 95th Percentile
Here's What Sana Had to Say About Us:
"Since English is not my first language, I knew I needed to practice a lot for the CARS. I got a 120 on my first CARS practice, and I almost immediately thought that I would have to postpone my [MCAT]. I tried ALL the resources out there for CARS Examkrackers, NextStep, Altius, Kaplan and Princeton Review. My score improved around 2 points and it plateaued at 122. I was hopeless at that point and was desperate to try anything. I finished the [Testing Solutions Bootcamp] and my score on the practice tests increased from 122 to 128.  I ended up with a 129 [on my real MCAT]. Improving from 120 to 129 is a huge jump and I definitely credit TS."
"Improving from 120 to 129 is a huge jump
and I definitely credit TS."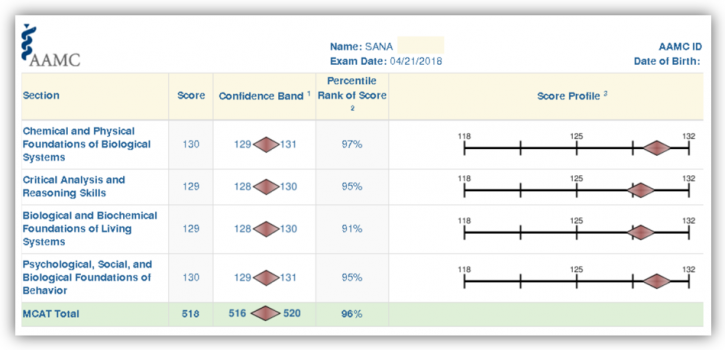 Usually $149.95 –

Only $49.95

for Current Customers
100% Money-Back Guarantee